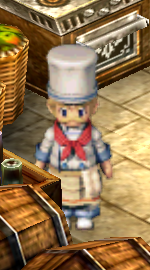 Densel is an inhabitant of Estelle's hometown of Rolent.
He's the cook and owner of the Abend Bar: Rolent's only restaurant/drinking establishment, which he runs together with his wife. He feels that food can give one happiness in two ways: eating and cooking. He likes both, but enjoys cooking just a little bit more. While he's the one doing all the cooking, he regularly asks the others for ideas and input and recently created a succesful menu based on his daughter Elissa's suggestions, causing him to consider asking her to help him out in the kitchen instead of merely working as a waitress.
He and his wife started the restaurant before they were even married, which is why both have a special bond with it and are happy to see Elissa helping out with the business as well.
Relations
Edit
Father of Elissa and husband of Tabhita
Employer of Faulkner
Ad blocker interference detected!
Wikia is a free-to-use site that makes money from advertising. We have a modified experience for viewers using ad blockers

Wikia is not accessible if you've made further modifications. Remove the custom ad blocker rule(s) and the page will load as expected.