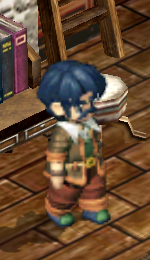 Mister Fate is an inhabitant of Estelle's hometown of Rolent.
He lives in a house in the south-western corner of the city together with his young daughter with whom he has a very close bond. He's a retired soldier who served in the army together with Cassius and who fought alongside him in the 100-Day War. A leg injury caused by shrapnel forced him into early retirement. When Estelle visits him, he asks her to tell her father to drop by some time and exchange war stories once more.
Relations
Edit
Mister Fate is the father of Yuni and a Royal Army colleague of Cassius Bright.
Ad blocker interference detected!
Wikia is a free-to-use site that makes money from advertising. We have a modified experience for viewers using ad blockers

Wikia is not accessible if you've made further modifications. Remove the custom ad blocker rule(s) and the page will load as expected.