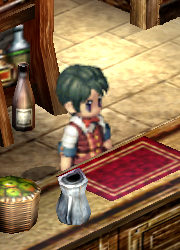 Faulkner is an inhabitant of Estelle's hometown of Rolent.
He's working at the Abend Bar as a bartender and waiter and can usually be found behind the counter there. Faulkner started working at the bar because Densel promised him he'd be allowed to manage the place, with Densel usually focussing on preparing the meals, but to his disappointment his job involved a lot more waiting than managing after the Abend Bar started offering morning and lunch service. Complicating his life even more is the fact that Scherazard Harvey is a regular customer at the bar and whenever she's drinking alone, he's the one who's forced to keep her company and put up with her drunken antics.
Relations
Edit
Faulkner is an employee of Densel and Tabhita and a colleague of Elissa
Ad blocker interference detected!
Wikia is a free-to-use site that makes money from advertising. We have a modified experience for viewers using ad blockers

Wikia is not accessible if you've made further modifications. Remove the custom ad blocker rule(s) and the page will load as expected.