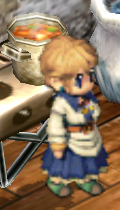 Frissa is an inhabitant of Estelle's hometown of Rolent.
She lives on the upper floor of a residence in the south-western corner of the city together with her husband and daughter. Since her husband is chief miner in the Malga Mine north of town, he's often away from the home. Frissa isn't extremely happy with this, but nevertheless takes it in stride and supports her husband, telling herself that since he's working hard for their family, she has to as well.
Relations
Edit
Frissa is the wife of Mister Gaton and the mother of Anya
Ad blocker interference detected!
Wikia is a free-to-use site that makes money from advertising. We have a modified experience for viewers using ad blockers

Wikia is not accessible if you've made further modifications. Remove the custom ad blocker rule(s) and the page will load as expected.